The spirit of Azun Nature
In the heart of the Hautes Pyrénées, we welcome you with ease at our Azun Nature campsite, in these exceptional and unspoiled landscapes of the Azun Valley, the Pyrenees National Park and the Gavarnie Valleys.
Since the creation of Azun Nature, we have remained faithful to our approach which is the preservation and enhancement of our environment. These values that drive us, respect and gestures for our environment, discovery and enhancement of the natural, cultural and historical heritage of our valley are part of our philosophy of life and are all riches that we want to share with all our guests.

In harmony with nature
Concerned about our environment, we have integrated all our facilities into the site as best as possible: chalets, camping pitches, plantations (species of the region), buildings (typical of local architecture) in order to be in harmony with the landscape.
Authenticity and friendliness
If, like us, you feel close to nature, to simple values and to authenticity, Azun Nature will be your refuge and we will be very happy to help you discover and get to know our magnificent valley.
Welcome to our home.
Joëlle, Yves and Fabien.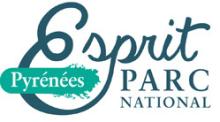 Azun Nature is labeled "National Park Spirit" for its 30 natural sites and "Nature & Wood" chalets.
"The National Park Spirit" is accommodation characterized by a commitment to the environment but also by enhancing the heritage of the territory of the National Park.
This commitment is reflected in the establishment of energy and water saving devices, the promotion of soft mobility from accommodation, the use of ecological products for maintenance, place of waste sorting ...
You will find within these accommodations, thanks to the welcome provided, but also through various media, all the information and awareness to discover the diversity and richness of the natural and cultural heritage of the Pyrenees National Park. The invitation to discover local gastronomy, to meet local producers is also part of the "spirit" of sharing and authenticity cultivated around the brand.
Finally, it is the opportunity to stay in a village or a building of character, to be very close to or in touch with nature and the biodiversity that makes it up.
Opening periods and opening hours
Chalets: open all year. Arrivals from 4 p.m. until 8 p.m. For late arrivals, please let us know. Departure until 11 a.m. 
Pitches: from May 1 to September 30. Arrivals from 12 p.m. Departure until 12 noon.
 
Reception hours: school holidays from 8 a.m. to 8 p.m. / Outside holidays from 9 a.m. to 12 p.m. and from 4 p.m. to 7 p.m.